KindHealth does not sell marijuana products.
Book your doctor's appointment now using our 'Get your medical card with online services' button below.
Medical Marijuana Card Doctors in Miami
"I got mine from KindHealth!"
We accept cash or credit cards for all of our services. No hidden fees.

Fast. Easy. Card.
Med card assessments with same day approval. Miami's first choice for hundreds of cannabis cardholders.
First-Time Card
Eligible patients must:


Be a permanent or seasonal FL resident


Have a state required medical condition


Make your first doctor visit in-person
Save $20 now (limited time only)!

Transfer of Care
Changing to one of  our doctors? We have:


The lowest transfer fee in Miami


All your orders - edibles/flower/bud/tinctures/oils


Any and all other order changes that may be needed


Full orders for the legal limit seven-month (210-days)

Script Re-certify/Renew
For patients with a card already:


Evaluations by smartphone, as appropriate


Covers all orders for a full seven months


Any new Florida MMJ card order changes


Stay legal for 365 days: less than 65 cents/day!
$99.00
Installment Plan
Need a new card but tight on funds? Break your yearly expense into 3 easy payments of $55 with our installment plan.
Plus More

Bring a buddy, get a discount!


Veterans save $25 off their first visit


Best customer service at the lowest price


Join over 400,000 Floridians with legal med cards


Save office time with online registration
How to Get a Medical Marijuana Card in Miami

1. Schedule Your Appointment.
Arrange your appointment for an assessment for your med card. Schedule online, or save time and call our office at (786) 953-6838.

2. Get Your Assessment.
Our Florida certified doctors will quickly determine if a med card will help you. Get the best relief for your medical condition.

3. Register on the Same Day!
Same Day Approval! Our doctors register your med card application right away. While not required, bringing your records helps.

I have nothing but good things to say about Kind Health, specifically Gentry and Dr. Codella have always been helpful, efficient, and friendly. I highly recommend working with them!
I SERIOUSLY DONT KNOW HOW THIS "business" has five stars! Their hours are INCONSISTENT AND THE STAFF IS RUDE! I always feel bad energy every time I go there. Like they're up to know good. One of

...

those dirty businesses! The atmosphere is shotty!

read more
Was an amazing experience going to KindHealth for my medical marijuana card. The staff and doctor were extremely nice. They were very informative regarding the whole process!
Great prices, even better service! I've had my card for quite a few years and here, I'm not just a transaction, I'm an actual patient. Thank you so much!!!
Kind, efficient and easy. Five stars.

*Don't see your condition on the list? You may still qualify for a medical cannabis card. If our doctors feel you have a problem of the "same kind or class as," one listed. Our decision needs your problem to be serious with symptoms like those listed.
Ask yourself these questions:
Are my symptoms serious or severe?

Does my condition interfere with the core aspects of my life?

Does it affect my ability to lead a healthy, active life?

Has it affected my job?

Is it harmful to my personal or work relations?
If you answer YES to any of these questions, schedule a visit with us. You might qualify for a Florida med card. Let's find out if we can improve your quality of life! Of note, unfortunately, there is no treatment role for cannabis and coronavirus.
Check Out Our New Location!
KindHealth moved to Shorecrest at 649 NE 79th Street, Miami, FL. We serve the Miami Shores | North Bay Village | Isle of Normandy |El Portal | Little Haiti | Morningside | Belle Meade | West Little River and Bayside neighborhoods. We're also convenient to North Miami | North Miami Beach | Gladeview | Brownsville | Biscayne Park | Aventura and all of South Florida.
Special Offers
KindHealth Medical Marijuana Doctor Miami offers special discounts from time to time. Bring a friend and get a 'buddy' discount at a total cost of $299. Service veterans only pay $159 for the first visit. We will tell you about the local dispensary services. We often even have discounts for first-time buyers to purchase medical cannabis from Florida dispensaries.
Choose KindHealth Medical Marijuana Doctors in Florida
Applying for a med card can be scary. Let our experienced staff help you every step of the way. Our courteous, board-certified physicians will take good care of you! Use your card at any licensed medical marijuana treatment center. We make the registration process for your Florida state med card easy. Schedule a visit in our warm, welcoming clinic. We will take great care of you!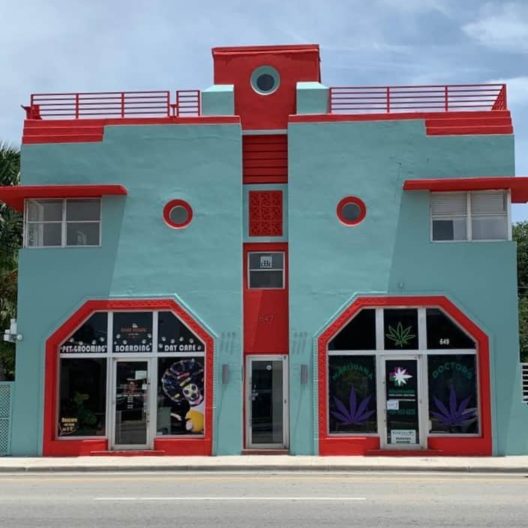 What's a Cannabis Card?
A Florida med card (medical cannabis card) is a state-issued ID card. It lets patients buy legal weed. For more, read Fast FAQs.
Cannabis Card Benefits
There are many benefits of a medical weed referral in Florida. These range from health benefits, legal defense, and more.
Control Your CBD
Let our Miami cannabis card doctors help you safely use cannabis. Discover how to vape and use oils, tinctures, edibles, capsules, extracts. We also have tips on CBD oils, topical creams, and other CBD products. Our doctors prescribe all types that work best for you.
Does Florida have Medical Marijuana?

Florida medical weed is allowed under Florida's Compassionate Care Act. This Act created the Office of Medical Marijuana Use Registry in 2014. The Florida Department of Health runs the OMMU. Now, certified doctors can prescribe medical weed. This law gives qualified patients access to safe treatment with fewer side effects.
Get Legal Today!
The state of Florida medical marijuana laws grants the legal use of weed. The Florida Department of Health accepts credit cards for the ID card application fee. Get legal today! Buy safe, quality cannabis, THC and CBD. THC cannabis and marijuana in Florida.
Expanded List of Qualifying Conditions
Florida amended The Act in 2016 with Amendment 2. This change added more Florida medical marijuana card qualifying conditions. Doctors can also order weed for an illness of the same kind or class. You can reach the OMMU at (800) 808-9580.
Florida Marijuana Doctors MMJ Card
Our Miami cannabis card doctor certifies qualified weed patients for the card. Patients can apply with severe health problems like pain, seizures, post-traumatic stress disorder. MMJ may help fight the Florida opioid crisis. Similar conditions like anxiety or sleep trouble may also work.
This is How to Get Medical Weed in Florida
Our cannabis clinic goal is to evaluate and support cannabis patients seeking relief. For these, we recommend medical and proven cannabis treatments. Schedule an appointment for a medical marijuana recommendation if you think you may be a candidate. Get your medical marijuana card in Miami from the best Florida CBD doctors at the best price.
Getting a Medical Marijuana Card in Florida has Never been Easier
While bringing your health records helps us get a complete medical history. However, they are not required for our medical marijuana evaluations. If we need more info for your Florida mmj card, we will call your doctor. KindHealth conforms to HIPAA rules. We keep all your records private to the Compassionate Use Registry. Read our medical cannabis doctor clinic policies.
Transfer to Our Florida Medical Weed Doctor
If you already have a cannabis card, Florida lets you change doctors. If you are unhappy with your current qualified doctor, switch from the one you have now. Our Miami medical marijuana card doctors will see you. Even when you are out of refills. Our Florida medical cannabis doctors follow best practices when they recommend cannabis.
Where to get a Med Card in Miami
"We have great confidence in the benefits of medical cannabis. This faith nurtures our belief that medical marijuana patients who need a card should have one." Join our KindHealth Rewards Club and get a discount on your Florida med card. We recommend medical marijuana for patients who need them. When you need to find a doctor, come to KindHealth. We are the best weed card doctors in Miami.


Medical Marijuana Card Doctors in Miami
Visit KindHealth Marijuana Card Florida
There is required proof of residency for Florida medical marijuana cards. You must also make an in-person visit to KindHealth. Our medical cannabis physician will evaluate you. They are qualified to order medical marijuana. Our doctor does a comprehensive medical evaluation to establish an in-house medical record. We obtain medical records from other physicians (if applicable).
Do You Meet the Florida Department of Health Requirements?
If you qualify for medical marijuana use, our doctor adds you to the medical marijuana registration. Our doctor recommends you for medical marijuana use. The recommendation for medical marijuana use is similar to a written prescription. We establish a cannabis medical care plan on your behalf and do medical marijuana education if needed.
Does Insurance Pay for Certification?
The initial marijuana evaluation and follow-up visits are included in the costs. Insurance plans do not cover services related to cannabis. Getting a medical marijuana card only takes cash or credit. The expiration date for each certification is usually 70 days from its start date. The card expires one year after purchase and must be renewed annually.

Read here about our marijuana physician clinic billing. Certification is required every seven months by Florida law. Obtain your Florida medical cannabis card in Miami. Then, you can get your cannabis through a dispensary. All medical marijuana dispensaries are licensed by the Florida Department of Health. Getting a medical marijuana card in Florida has never been easier. For more info on Florida medical weed, take a look at our KindHealth blog.
Stay Up To Date With Cannabis


CORONAVIRUS ALERT - We are open and practicing social distancing! For the safety of you and others bring your mask when you visit us.
How to get medical weed in Florida? You must live in Florida and have a qualifying medical condition. Seasonal residency works; for example, if you live in Coral Gables only part-time, you meet the requirements. Get your Florida medical cannabis card from KindHealth medical marijuana clinic in Miami. We'll have you buying medical marijuana in Florida dispensaries in no time. Oh, by the way, our 420 doctors also evaluate patients for emotional animal support letters (ESA).  If you came to our clinic and missed your chance to review us, come and see us again!