649 NE 79 ST
Miami, FL 33138
Find a Medical Marijuana Doctor Near Me
Find your 'medical marijuana doctor near me' at KindHealth. Our clinic in North East Miami takes care of all your medical marijuana card needs. We serve the needs of North Miami Beach, Miami Gardens, Wynwood, Hialeah, North Bay Village, and the Isle of Normandy. Get legal fast & easy. Same-day approval. Get the best service at the lowest price.

Get Your Card in Three Easy Steps

1. Schedule Your Appointment.
Arrange your appointment for an assessment for your med card. Schedule online, or save time and call our office at (786) 953-6838.

FAST. EASY. CARD.

2. Get Your Assessment.
Our Florida certified doctors will quickly determine if a med card will help you. Get the safest, best relief for your medical condition.

3. Register on the Same Day!
Same Day Approval! We register your med card application right away. Bringing med records or medication helps but is not required.

I have nothing but good things to say about Kind Health, specifically Gentry and Dr. Codella have always been helpful, efficient, and friendly. I highly recommend working with them!
I SERIOUSLY DONT KNOW HOW THIS "business" has five stars! Their hours are INCONSISTENT AND THE STAFF IS RUDE! I always feel bad energy every time I go there. Like they're up to know good. One of

...

those dirty businesses! The atmosphere is shotty!

read more
Was an amazing experience going to KindHealth for my medical marijuana card. The staff and doctor were extremely nice. They were very informative regarding the whole process!
Great prices, even better service! I've had my card for quite a few years and here, I'm not just a transaction, I'm an actual patient. Thank you so much!!!
Kind, efficient and easy. Five stars.
Best Service. Lowest Price.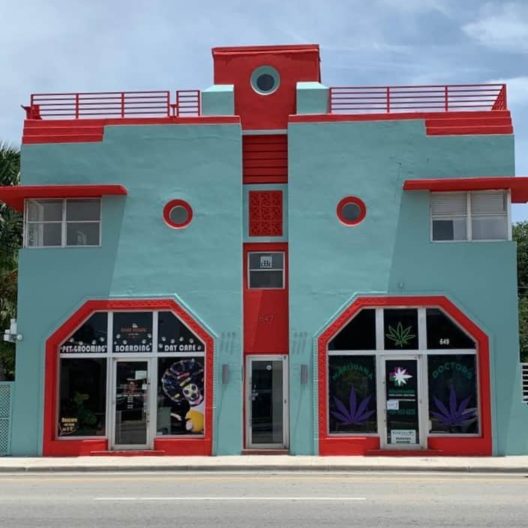 See a Medical Marijuana Doctor Near Me Now! (786) 953-6838
Our Neighborhood - 420 Doctors in North East Miami Florida
KindHealth is Florida's #1 medical cannabis card clinic in North Miami. Marijuana research shows promising results in the treatment of a number of medical conditions by helping to relieve symptoms. We offer an alternate path to health with less side effects using cannabis. Our cannabis card office builds a foundation of understanding our customers. KindHealth client services include:
Certified North Miami Cannabis Doctors

North Miami Medical Marijuana Cards

Doctors Trained in Cannabis Care

Ongoing Patient Support
Get a Florida Medical ID Card
Getting your cannabis card in Normandy Isle or North Bay Village has never been easier. First, our certified doctors review your medical history. Then, we do a medical card evaluation to find the best cannabis strain and optimal dose for your condition. Afterward, we submit your paperwork to the Florida OMMU to get your medical card. We make the recommendation process smooth in every aspect. Our follow-up care is important as we want to see an improvement in your quality of life. The MiMo District legacy surrounds us with a new-age architectural twist. We also serve the following zip codes: 33127, 33137, 33141, 33147, 33150, 33161, 33162, 33167, 33168, 33181.
Meet Tom. He got his Marijuana Card in Belle Meade.
North Miami Florida

Belle Meade in North Miami is a sub-neighborhood that lies within the larger enclave of the Upper East Side. This community dates back to 1925 and has continued to develop over the years. The southern part contains a smaller subdivision known as the Bayside Historic District. The northern part contains Belle Meade Island. It is bounded by the Little River to the north, northeast 72nd Terrace to the south, Biscayne Boulevard to the west, and Biscayne Bay to the east.
Demographics

of Belle Meade
As of 2000, the population of Belle Meade was 2,149 people. The Belle Meade zip code is 33138 and the area covers 0.433 square miles (1.12 km2). As of 2000 males outnumbered females 1,248 to 900. The median age for males was 35.2 years old, and 35.5 years for females. The average household size had 2.0 people, while the average family size had 2.8 members. The percentage of married-couple families (among all households) was 26.8%, while the percentage of married-couple families with children (among all households) was 9.0%, and the percentage of single-mother households (among all households) was 3.6%. The percentage of never-married males 15 years old and over was 31.6%, while the percentage of never-married females 15 years old and over was 13.1%.
As of 2000, the percentage of people that speak English not well or not at all made up 6.5% of the population. The percentage of residents born in Florida was 20.4%, the percentage of people born in another U.S. state was 46.8%, and the percentage of native residents but born outside the U.S. was 4.1%, while the percentage of foreign-born residents was 28.7%.
As of 2000, the racial makeup of Belle Meade (including the Bayside Historic District) was 42.68% Hispanic or Latino of any race, 1.60% Black or African American, and 52.66% White (non-Hispanic).
References: