649 NE 79 ST
Miami, FL 33138
Get a Medical Cannabis Card in North Bay Village

Where to get a medical cannabis card in North Bay Village? Get a card from our North Miami 420 doctor. Fast. Easy. Card. Same-day approval. Accessible pain relief with affordable pricing. We also write emotional support animal letters for qualified patients.
Get Your Card in Three Easy Steps


1. Schedule Your Appointment.
Arrange your appointment for an assessment for your med card. Schedule online, or save time and call our office at (786) 953-6838.


2. Get Your Assessment.
Our Florida certified doctors will quickly determine if a med card will help you. Get the safest, best relief for your medical condition.


3. Register the Same Day!
Same Day Approval! We register your med card application right away. Bringing med records or medication helps but is not required.

FAST. EASY. CARD.
KindHealth is exceptional and working with Gentry has been a pleasure. Gentry makes the process simple, painless, and he holds your hand through every step. The physician who examined me was

...

compassionate, thorough, and attentive.Don't waste your time with other Medical Marijuana doctors- KindHealth is the BEST

read more
I went in around 1145 and was out before 1…. It is a professional office with professional workers… The doctor made sure I understood everything and made it clear…. M.G also was great he got me

...

exactly what I needed and guided me throughout the whole process… I would recommend this office to anyone… Great team and keep it up thank you

read more
If I could rate this location 6 stars, I would. Between the homey, relaxing music and the up-to-date expertise from the Doctor's made this a super rewarding experience. I heard that it can get a

...

little busy sometimes, as places do, but rest assured, you'll always feel acknowledged and supported. Before I realized that I was waiting, I found myself swaying to the catchy music. I'd take advantage and ask as many questions as you can, because they'll review anything and everything with you. Above and beyond, 10/10. Tell the office kitty-cat that I say hi. Enjoy!

read more
Very friendly and attentive. Super relaxing atmosphere. It feels great to work with people who treat you like a human versus another dollar. And best prices in miami!! I know! I called every doctor

...

lol

read more
Great experience - Gentry was informative and helpful throughout the entire process. I would recommend to friends.
Best Service. Lowest Price.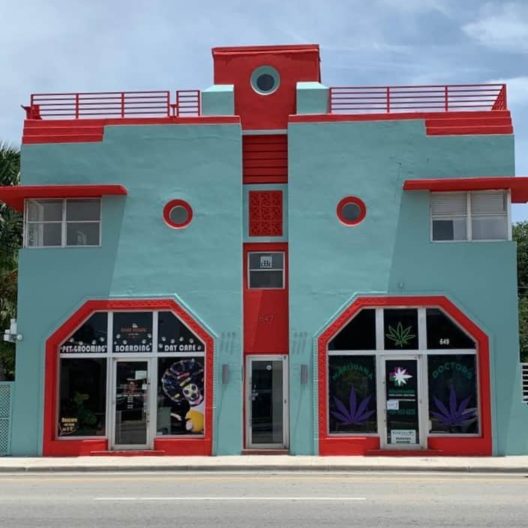 Where to Get a Medical Cannabis Card in North Bay Village

If you have a chronic condition such as chronic pain, find an mmj doctor for a medical weed card. If you are looking to find a doctor to get a new card or quickly recertify your old medical card, call KindHealth near North Bay Village now! We have the best medical marijuana doctors and welcome local South Floridians to our new clinic. Our certified physicians promote all-natural, holistic medicine. We offer same-day doctor's approval to say nothing of having the best prices in North Miami. In addition to medical marijuana evaluations for your mmj card, we perform emotional support animal evaluations.
KindHealth is conveniently located at 649 NE 79 ST, Miami, Fl 33138 on the east side of the reinvigorated 79th Street Causeway. We are just minutes from I-95 and steps from the retro-modern MiMo Biscayne Corridor nearby. The MiMo District legacy surrounds us with a new-age architectural twist. The MiMo District legacy surrounds us with a new-age architectural twist. We also serve the following zip codes: 33127, 33137, 33141, 33147, 33150, 33161, 33162, 33167, 33168, 33181.
With years of combined experience in the medical cannabis industry, our compassionate physicians give you quick and painless access to Florida med cards. When you are finally ready to get proactive with your health and wellness, visit us at our new location for a medical cannabis card (MMJ, MMID, or Registry Identification Card) today.
Meet Tom. He got his card from KindHealth.
Why Get a Medical Cannabis Card in North Bay Village Florida?
Since our beginning, KindHealth commits to maximizing your experience from the moment you walk through the door to the second you leave, every time. Whether you're visiting our cannabis clinic for the first time or you need a follow-up medical cannabis card evaluation, we ensure the fulfillment of your health and wellness goals. In brief, our clinic promises:
Our well-informed staff explains all your cannabis card benefits.

Compassionate cannabis doctors.

Easy access for patients with disabilities and wheelchairs.

A complete and efficient med card consultation and recommendation.

Lowest priced marijuana card evaluations and renewals in Miami

Full 210-day prescription refills at no added cost

Assistance with state-issued weed card applications

Conveniently located on NE 79th Street in the Upper Eastside

Practitioners of alternative medicine and getting back to what's natural.
Visit Us for a Medical Marijuana Card in Florida Today
You do not need to go to Los Angeles to get legal today. Our 420 doctor near Miami Shores will answer the question "where can I get my medical card near me?"
"Schedule your appointment online or give us a ring at (786) 953-6838. Our 420 doctors work with the medical marijuana program to get your Florida weed card recommendation. Our certified cannabis doctors will take care of the rest. Here is a list of Florida marijuana dispensaries. Click here to learn more about finding medical marijuana doctors in Belle Meade Florida.

WE ARE OPEN!
CORONAVIRUS ALERT - COVID social distancing disrupts our routines and raises our anxiety. Take the edge off with a full supply of legal cannabis. For a limited time only, take advantage of our lower prices for a medical marijuana card. Our office keeps social distance and frequent cleaning to keep you (and us) safe and coronavirus-free. Call us today to fill up your stash!